Srimaan Trust is a charitable organization. It aims to aid the economically downtrodden people of our society. The Trust explores every section of the society and extends its hands to serve.

Village Children Benefited
Srimaan Trust in Uthavikkaram TV Voice of Srimaan Trust WATCH ON YOUTUBE
Read More »
Srimaan Trust's Gho poojai   WATCH ON YOUTUBE
Read More »
Srimaan Trust gurukalam students doing Thirumanjanam   WATCH ON YOUTUBE
Read More »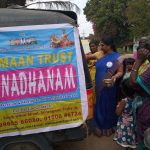 Thai Ammavasai Annadhanam
Jan 2023
Srimaan Trust on the day of Thai Ammavasai (21st Jan 2023) distributed free food (Annadhanam) for many needy people in the  villages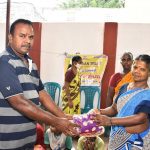 Deepavali in Villages
Oct 2022
Srimaan Trust celebrated this Deepavali with Village children and needy people. New clothes and sweets  were  distributed to them! 
Navarathri in Villages
Sep - Oct 2022
Srimaan Trust celebrated the 9 days Navarathri festival  with Village children and people.  The Trust distributed dolls , provisions (for each day to do snacks) and taught the Village Kids and elders on how to celebrate this festival ! 
Mandala Art Book & Interpretation
Commencing Soon
MANDALA Art Book & Interpretation
ANNADHANAM – Food for All
"Every sunrise is an invitation for us to arise and brighten someone's day"
We help fight the hunger with a thought of food for all. We deliver through periodic Annadhanam to more than 25 Villages in and around Trichy during free food for all the needy people. 
Education to Village Children
"Karpikkum Kainkaryam"
Education is to key to success and every child has the right for education. Srimaan Trust cares for the village children and provide free education to those children. 
SRIMAAN TRUST - A BEACON OF LIGHT IN MANY A LIFE
I am in Various Streams of Engineering and development Projects in commercial world. But , working with Swami to create / update his work on websites is extremely enriching experience because Swami's continuous effects have a sole objective of CARE and SHARE.
Swami's vision for human kind is matchless. He aligns his principles and discourses with seers from ages ago and proves how those are equipped to answer any challenges of today and tomorrows as well i really wish and hope that we all follow nd align our life style to that of Swami.
I am very grateful to the doctor for conducting the free Medical Camp for screening Uterine Cancer in women. People lack the knowledge and understanding of cancer. Women need to take the screening test from time to time,